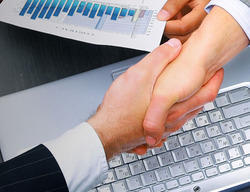 IT Consultancy
Sometimes, we all need a bit of expert advice.
As we spent quite a few years as a smaller company ourselves, we know how difficult it can be to maintain awareness of all of the market trends and new technologies affecting your business, and still give that business the time and effort it needs to grow and thrive. The odd chat with friends and colleagues doesn't keep you sufficiently in the loop, and if you ask a technology supplier, of course they'll say 'look no further, our new product has everything you need'.
You need access to informed, impartial, expert advice that isn't linked to a sales quota. Here at Rapid Business Solutions we know how to get to the bottom of our client's business needs, and how to help them see the potential that exists in currently available tools and technologies. We never recommend a technology or solution to our clients unless we have performed hands-on bench testing, and consider it reliable and effective enough that we would use it ourselves.
Better still, we can help you 'future-proof' your operations by preparing for the advances that are really 'right around the corner' whilst bypassing the hype that never comes to fruition.
FAQs
What is Microsoft Exchange?
Microsoft Exchange is a type of email server software that is used by many businesses in the UK. Exchange Servers provide more than just email – they also support company-wide address books, collaborative access to calendars and even web browsers.
How long does it take to set up a hosted server?
Usually only a few days, depending on exactly what it is you need. For more information, please contact Rapid Business Solutions today, and tell us how we can help.
Can I run several websites on one of your servers?
Certainly. There is no limit to the number of different websites or web pages you put on a server, but there are storage and bandwidth limits depending on your service package.
How can I access the data or applications you host for me?
You can securely log in to any of our hosted or cloud-based solutions form nearly nay internet-capable device, including desktop and laptop computers, smart phones and tablets from nearly anywhere in the world.