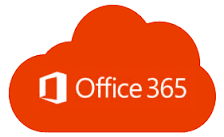 Office 365
One of the more surprising moves to the cloud in recent years, yet one of the most successful, is Microsoft's Office 365 application suite.
Everyone knows MS Office, but some don't realise that Office 365 is really a cloud-based solution. You pay not for the software but for access for a set number of users, and all of the infrastructure is maintained on Microsoft's servers. Home workers, individual traders and small offices with not many more than 5 users often find Office 365 to be a much more cost effective solution, and of course having Microsoft itself responsible for any IT issues you encounter is attractive too!
However some larger offices have regretted moving such basic functions to the cloud, especially if they have a large number of users generating monthly fees or if their internet provider isn't quite reliable enough to risk being cut off from something as basic as access to your spreadsheets and word processing capability. Some Sage and Iris users have experienced similar troubles.
Rapid Business solutions can help you get established with Office 365 or nearly any other cloud-based service you may need, but more importantly, we can help you determine whether it would really save you money in the long run, or just become an expensive hassle within a few years' time.
FAQs
What is Microsoft Exchange?
Microsoft Exchange is a type of email server software that is used by many businesses in the UK. Exchange Servers provide more than just email – they also support company-wide address books, collaborative access to calendars and even web browsers.
How long does it take to set up a hosted server?
Usually only a few days, depending on exactly what it is you need. For more information, please contact Rapid Business Solutions today, and tell us how we can help.
Can I run several websites on one of your servers?
Certainly. There is no limit to the number of different websites or web pages you put on a server, but there are storage and bandwidth limits depending on your service package.
How can I access the data or applications you host for me?
You can securely log in to any of our hosted or cloud-based solutions form nearly nay internet-capable device, including desktop and laptop computers, smart phones and tablets from nearly anywhere in the world.