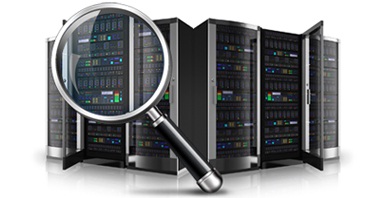 Server Monitoring
Just what is server monitoring?
Server monitoring is really just us keeping a trained eye on the way our clients use a particular server's resources, such as memory, disk space, and CPU usage. The reason it is important is that many smaller hosting companies just don't devote enough time and effort into making sure each server has more than enough resources on hand to handle any surges in use or other special circumstances, and that can lead to crashes, data loss and problematic downtime.
We are passionate about our server monitoring. We believe that if we can be proactive 100% of the time, then anything less than 99% uptime is unacceptable. We check your server daily for backup and red-flag events, we update weekly and perform monthly restarts.
Most of our clients have only minimal usage on the evenings and weekends, so we do most of the work then. Of course, we work around the clock to keep your network live 24/7/365, so if we can customise this planned downtime to suit your schedule.
FAQs
What is Microsoft Exchange?
Microsoft Exchange is a type of email server software that is used by many businesses in the UK. Exchange Servers provide more than just email – they also support company-wide address books, collaborative access to calendars and even web browsers.
How long does it take to set up a hosted server?
Usually only a few days, depending on exactly what it is you need. For more information, please contact Rapid Business Solutions today, and tell us how we can help.
Can I run several websites on one of your servers?
Certainly. There is no limit to the number of different websites or web pages you put on a server, but there are storage and bandwidth limits depending on your service package.
How can I access the data or applications you host for me?
You can securely log in to any of our hosted or cloud-based solutions form nearly nay internet-capable device, including desktop and laptop computers, smart phones and tablets from nearly anywhere in the world.