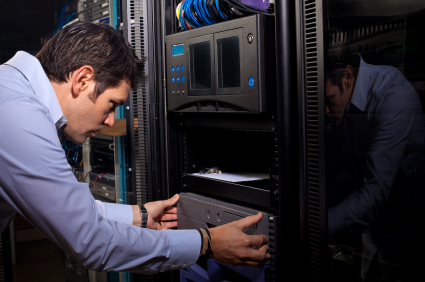 Server Installation
Cloud computing is not always the best way forward, even for smaller businesses. If you have a great many email accounts or run quite a few third-party applications, it might be more cost effective for you to install your own internal server. It does represent an up-front cost, but most many-user systems will see this offset in just a few years by monthly costs avoided by moving away from the cloud.
Another important point is security – some businesses are required to maintain very sensitive data about their dealing and their clients, and feel much better keeping this data on-site and out of the hands of a third party, no matter how reputable. After all, if you're never sending the data outside of the building, it can never be hacked or intercepted.
Rapid Business Solutions can install, upgrade or replace your server(s), using the latest and most effective hardware, software and security features. Better still, we can customise your installation to provide exactly the features that your business needs.
Hybrid server solutions
Rapid Business Solutions has the expertise required to offer hybrid server solutions – where certain parts of your system can be either cloud-based or remotely backed up, whilst other sections (and the data they contain) are hosted exclusively on your own equipment. Please contact us today to find out what a hybrid server solution could do for you.
FAQs
What is Microsoft Exchange?
Microsoft Exchange is a type of email server software that is used by many businesses in the UK. Exchange Servers provide more than just email – they also support company-wide address books, collaborative access to calendars and even web browsers.
How long does it take to set up a hosted server?
Usually only a few days, depending on exactly what it is you need. For more information, please contact Rapid Business Solutions today, and tell us how we can help.
Can I run several websites on one of your servers?
Certainly. There is no limit to the number of different websites or web pages you put on a server, but there are storage and bandwidth limits depending on your service package.
How can I access the data or applications you host for me?
You can securely log in to any of our hosted or cloud-based solutions form nearly nay internet-capable device, including desktop and laptop computers, smart phones and tablets from nearly anywhere in the world.